SEC enhanced their regulation of private funds advisors with approval of new rule on August 23, 2023. This enhances the regulation of private fund advisers and updates the existing compliance rule that applies to all investment advisers. The new rules and amendments are designed to protect private fund investors by increasing transparency, competition, and efficiency in the private funds market.
Who does this impact?
Based on DiligenceVault's database of SEC registered advisors, it impacts over 25,000 registered advisors of which over 10,000 are private fund advisors. We have compiled a summary of the timeline, 12 areas of focus from the published factsheet, and recommended considerations for the advisers as a helpful starting point.
PFA – Private Fund Advisors with the exception of securitized asset funds they advise.
RA – Registered Advisors
RULE
AREA OF FOCUS
PFA / RA CONSIDERATIONS FROM DV LENS
New Quarterly Statement Rule for PFA
Provide investors with quarterly
statements detailing information
regarding private fund
performance, fees, and expenses
Building a robust internal reporting framework with straight through processing, combined with the right review and control functions. Prioritize sharing this report in Excel / data formats or programmatically and not in a PDF.
New Private Fund Audit Rule for PFA
Obtain an annual audit for each private fund
Get a list of PCAOB-registered auditors with expertise in private fund
strategies that you deploy and work with firms your size. Our ADV service provider profiles / analytics explorer can be a great resource
New Adviser-Led Secondary Rule for PFA
Obtain a fairness opinion or valuation opinion in connection with an adviser-led secondary transaction
if planning a GP-led secondary, partner with a reputable valuation firm and start preparing supporting materials for the valuation.
The entire summary for 12 focus areas is available for download at the end of this article.
Next, we have further identified high frequency keywords in the rule and included a visual depiction as it highlights the areas that the regulators are focused on with the recent enhancement.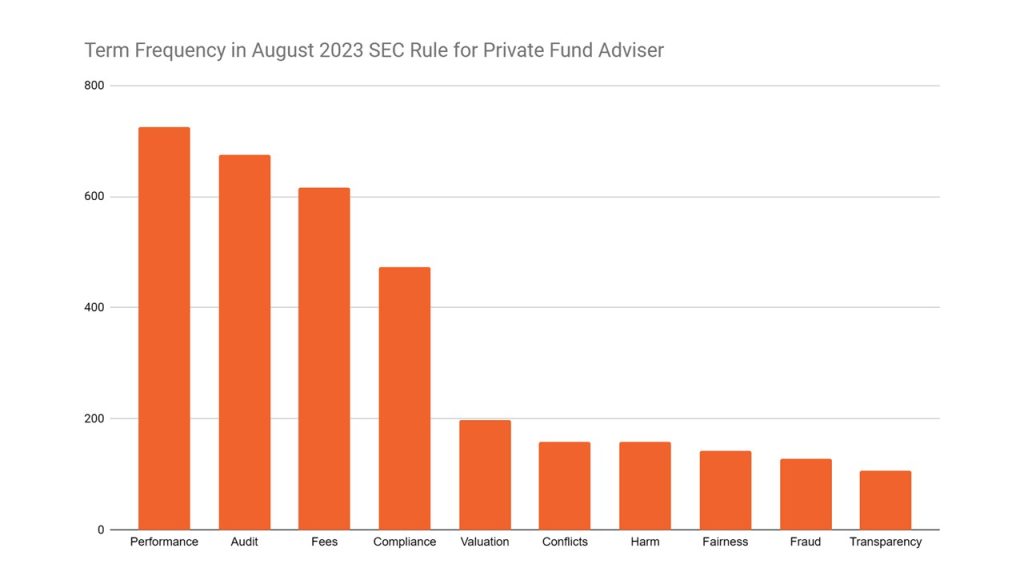 Implications for Investors – More Transparency, Diligence, Investment Upside
Improved and consistent transparency would be welcome by all

For investors who have traditionally negotiated side letters, with additional disclosures this may assist in negotiations, while some side letter terms may not be relevant anymore

For investors who have been part of LPAC, this role is likely to evolve

All investors will need to extend their diligence and monitoring framework to understand how their adviser partners are preparing to comply with this rule, and what cost burden does it put on them

Investors can also maximize the impact of this rule in your investment portfolio. A very conservative estimate of SAM and TAM expansion for this segment is at ~$250mm and ~$1.5bn respectively 
Go long compliance consultants, auditors and to a small extent the valuation consultants for GP-led secondaries 

Go long RegTech and FundTech
Implications for Advisers
– The

 Technology X factor

There's an agreement amongst advisers, industry associations, and service providers that this updated regulation increases cost of compliance for the firms and by our estimation is well in excess of $100mm annually. The advisers will have to build an auditable and scalable framework to comply and technology will play a critical role in optimizing their cost of compliance.
To download the entire summary of 12 areas of focus and the timeline, fill out the form.
Signup below to download the PDF.



Was this summary useful? Do you have any suggestions or alternate views? We are all ears.