Asset managers face a common challenge in investor reporting and RFP/DDQ management – crucial information scattered across various platforms, from shared drives to data rooms, and often in emails, content management systems, and in people's heads. This leads to inefficiencies and errors. The information could be in the following in diverse functional formats – DDQs, internal documents, in 10k/10qs, in the media, on a firm's website, in a firm's regulatory filings, and in product pitch decks. For nearly 70% of the firms in the industry, there is no centralized DDQ/RFP library.
Here lies the risk and the opportunity. Managing information across diverse mediums that can easily lead to errors, delays, and confusion, especially when client deadlines loom. Preparing outputs from this dispersed data becomes a messy and time-consuming chain of events. This risk also presents a significant opportunity for firms to centralize and streamline firm's knowledge base. Enter DiligenceVault, a cloud-based platform that offers a centralized knowledge management solution or RFP/DDQ library, simplifying how asset managers access and utilize critical information for investor reporting and RFP/DDQ responses.
Best Practices for Creating RFP/DDQ Library
With any technology solution to work well, a structured framework is helpful. We recommend best practices followed by our asset manager clients to see early success and high return on investment with your implementation of DiligenceVault.
STEP 1: Create a central source of truth for all your content on DiligenceVault. Start with diligence questions and FAQs, but also add commonly used images and graphics, supporting documents, and AUM and performance time series. This will ensure that all your content is online, the search is online and in one location in the form of RFP/DDQ library. This will make your team more effective as everyone can now easily access the information. 
STEP 2: Classify and tag your knowledge bank by stakeholder, by confidentiality, by functional owner, by context, and by update cycles. Ensure your firm level content is not mixed up with strategy or product specific content. To simplify the tagging, we also suggest a two-dimensional complexity and trust framework. This will help identify what content needs SME input or review, and what set of content needs periodic updates. This is crucial to configure update workflows so you do not overload your SMEs with unnecessary reviews, or end up with a lot of stale content.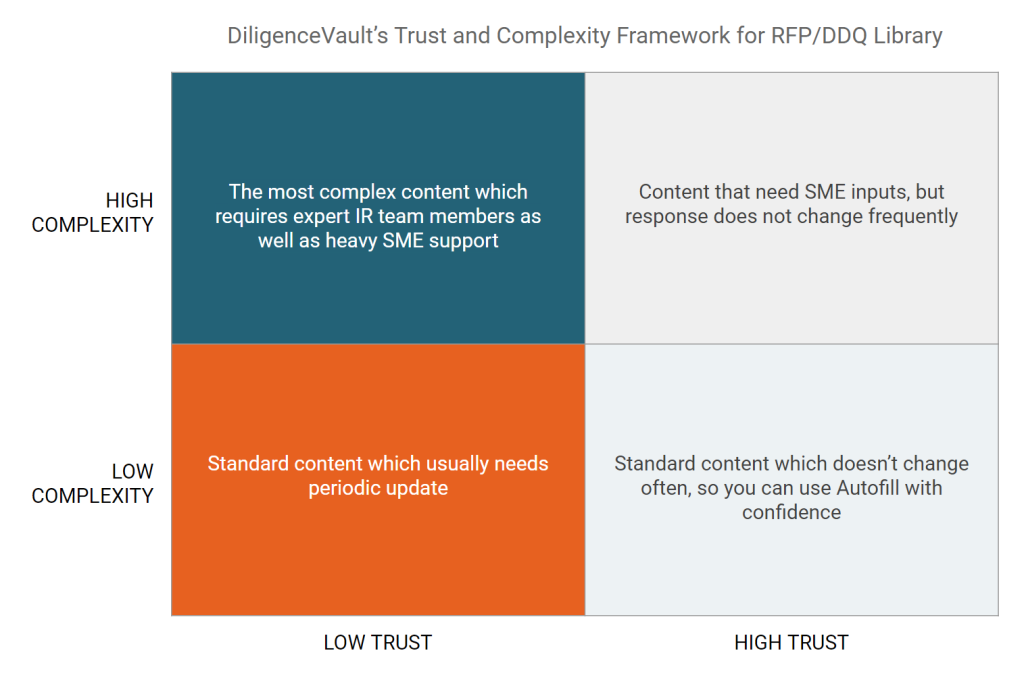 Below are specific examples of what types of information would fall in which quadrant. Once this classification is built, it's important to build workflows and reminders to ensure your DDQ/RFP knowledge library remains current and readily usable.
| TRUST | COMPLEXITY | EXAMPLE |
| --- | --- | --- |
| HIGH | HIGH | Please provide an overview of your compliance program. |
| HIGH | LOW | Inception date, Company HQ |
| LOW | HIGH | What is your view on use of Generative AI within your firm? |
| LOW | LOW | Company headcount, Strategy AUM, DEI statistics |
STEP 3: Build a connected experience that ensures content is accessible for your team members where they need it – on DiligenceVault or while working offline.  This will ensure that you remove friction for your team and seamlessly use your content for any of the below reporting needs, without errors in providing conflicting information.
Create pitch materials in Powerpoint

Create standard DDQs in Word or on DiligenceVault

Respond to custom investor requests on Qualtrics 

Respond to questions in emails 

Maintain database profiles in systems such as PitchBook, Preqin, eVestment, and consultant databases
Below we include links to four DiligenceVault plugin resources:
A RFP/DDQ Digital Transformation Pro-tip for Asset Managers
Armed with the technology solution that meets your need,  you have completed the first step of digital transformation. But this decision itself very rarely results in everyone within the firm magically using it. So there needs to be a leader who evangelizes it internally and gets the one factor that simplifies the messiness – humans all aligned. Take advantage of resources including asset manager user advisory groups, unlimited training and our online resources on RFP/DDQ management to get everyone to start making the most of your investment in DiligenceVault!  Good luck!
————————————-
In closing, we'll leave you with a checklist reminder of steps followed by asset managers in setting up their RFP/DDQ library and accessing it from anywhere:
Add all content on the platform from Q&A, policies and legal documents, supporting images, investor disclaimers, and AUM / performance history

Classify content by industry hierarchy – Firm level, Strategy Level, Product specific

Auto tag based on other metadata – investor, and update frequency

Further, classify content by topics and SMEs. Hint – try to look at the mental map above to help categorize content by complexity and trust

Build workflows to streamline refresh content

Unleash the Power of Plugins to access your content anywhere. Rate the plugins and give us feedback!

For any projects you work on in DiligenceVault, the knowledge bank is accessible right on the platform. Try Autofill functionality, search the Q&A bank, or leverage our recommendation engine. 
Learn more about DiligenceVault's solution for asset managers.