The role of investment databases
There are two types of databases used widely by various asset owners and allocators – the consultant databases like Albourne, LCG, Callan, etc as well as commercial databases such as eVestment, Morningstar, Preqin, Informa etc. 
The consultant databases may also offer a research opinion in addition to manager profiles. The majority of investors actively use one or more of these databases to:
Search for managers, strategies and investment products

Leverage the information for peer benchmarking

Receiving periodic updates about changes to the managers

We track over 60 global and regional databases across various asset classes, regions, and investor types. The updates for these database profiles are manual for the most part. The investment database profiles include both quantitative and qualitative inputs ranging from firm inception, size, strategy details, fees and expenses, key people, performance and AUM time series, holdings, as well as a range of basic ODD, ESG and DEI inputs,  all key to telling a manager's story.
Understand benefits of populating investment databases for asset managers
Asset manager marketing teams are incentivized to populate manager databases for the following reasons:
Showing up in manager searches is a top of the funnel equivalent exercise for asset managers. For certain asset classes and investors, database screening are a precursor to sending an actual RFI/RFP. Winning new mandates and growing AUM are priorities for marketing teams, and hence ensuring databases are populated accurately is important.

Additional advantage of showing up in databases is improvising product visibility and expanding brand awareness.

Listing the right products and strategies with accurate information provides clarity to asset consultants, investors and advisors.

Select databases also offer analytics that help you quantify market presence, investor engagement and peer benchmarkin

g.

Challenges in maintaining database profiles
While the benefits are tangible and promise high ROI, maintaining database profiles is often a cumbersome challenge for managers.
The database profiles are expanding and getting more complex very quickly

With an expansive list of databases and often limited internal resources, maintaining database profiles often depletes internal resources.

Lack of familiarity of database structures often leads to critical search items being missed and a high incomplete profile rate with low search visibility.

Given how resource intensive the update process is, data can be incomplete or stale without a scalable process. The risk is missing out on new opportunities if the screening is missed because of stale or incomplete profiles. 

Data can have errors because of wrong source data or copy paste error during population which could again either eliminate the profile from screening or create additional reporting burden to the investor. For the SEC registered managers, an additional area of focus is the need to incorporate auditable review of any marketing material and disclosures to be compliant with the SEC Marketing rules. Also, many databases have now added Net Performance to the databases that need to be updated historically.

Inconsistencies in reporting across multiple databases creates additional risk of misreporting.

Tracking of which profiles are updated for which database is often a manual exercise. For some firms these updates exceed 100 profiles each reporting cycle.

Excel, Word and email heavy time consuming and expensive process putting internal resource burden on your team 
Despite these challenges, how should asset managers devise a strategy to maintain database marketing edge?
3 steps in devising your investment database marketing strategy
As asset managers get ready to implement or finetune their investment marketing strategy, we suggest following a three step process:
Identify which investment databases to populate
For asset manager marketing teams, it is a balancing act to prioritize the right fit for the database and asset managers strategy to get the highest ROI on their efforts. Many asset managers are now expanding in both institutional and wealth distribution channels, which creates the need for more database population for the respective channels. Access our 2-page overview of various databases as well as distribution of institutional vs. retail, as well as databases by asset-class and popularity.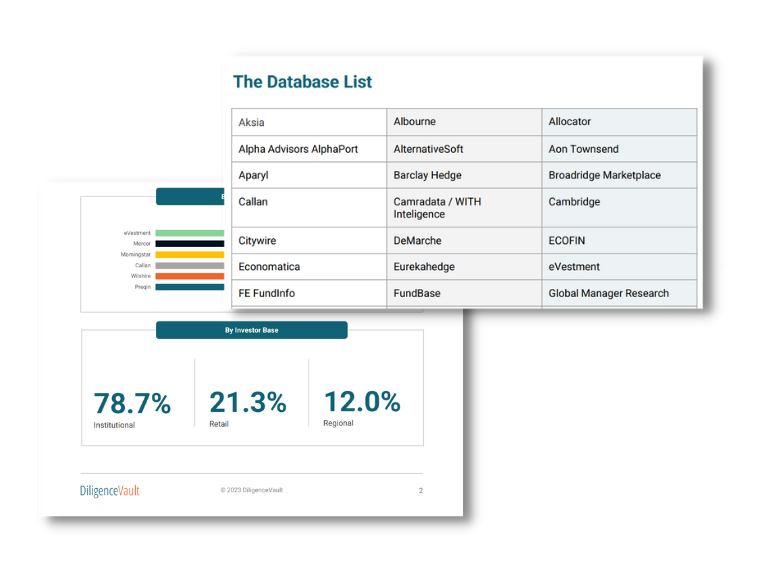 View Two-Pager Here
Decide on the operating model
Who owns the responsibility of updating the selected databases:
Internal database management: build an internal database marketing team who populates 100s of profiles on a quarterly or annual basis. 

Outsourced database management: 3rd party providers that offer a single universal template approach which maps to multiple databases, data reconciliation between periods and products. Further, most outsourced services offer full support for quantitative data population, with some gaps in the qualitative commentary.

Leverage technology
Once the list of databases are identified and the process to populate databases has been decided upon, the missing piece is how to prepare internal datasets to populate these database profiles. Oftentimes different product specialists are responsible for different products and strategies, as well as there are various stakeholders within the firm who need to provide various data inputs. And as a final step, there is reviewing and signing off on these profiles. DV premium manager functionalities  
Asset managers can leverage DiligenceVault to create and maintain database profiles on DiligenceVault, efficiently populate it using the latest data, and streamline internal workflows to review and approve these datasets. A case study about how a DV client leveraged technology to simplify this process: Database Management Case Study. Once the profile dataset is ready in DIligenceVault, it can be easily funneled to outsourced database management services, or used for internal database management according to the preferred distribution strategy.

Summary of Investment Database Profile Management Solutions
As asset managers continue to invest in and refine their database management operating model, we highlight a few offerings that are adopted by asset managers:
fin|Datalink https://www.findatalink.com/FinDatalink provides automated solutions for investment data management and distribution, and mentions connectivity to over 50 databases.
Conclusion
2023 is a year where marketing ROI is going to be very important. With budgets being affected across the asset management universes, conferences and events are going to be curtailed, and it is very important to ensure database strategy has the highest ROI. 
Build an efficient strategy to ensure your profiles are available in the right database, for the right target audience, and at a higher quality than before. Select the right combination of services and technology. Interested in learning how DV can help? Explore here