By now, it's pretty well established that ESG investing by asset owners and allocators is no passing fad.  All signs point to an only increasing importance to include ESG criteria for mandates by institutional investors.  In addition to environmental concerns, investors are also taking a hard look at the diversity makeup of the managers they invest with, moving past the "talk" and now focused on the "walk".  Institutional portfolios built for purpose is here to stay.
However, even with the growing amount of assets being allocated with an ESG/DEI criteria component, there are still challenges in verifying how managers are implementing these mandates.  As ESG-focused capital is put to work, existing gaps in the data standardization, transparency and reporting framework for these mandates is being exposed.
Two recent surveys of institutional investors by Schroders and Russell Investments spell this out.  Of all the challenges associated with impact investing, the lack of standardization and a common reporting framework clearly stands out as the primary concern by investors.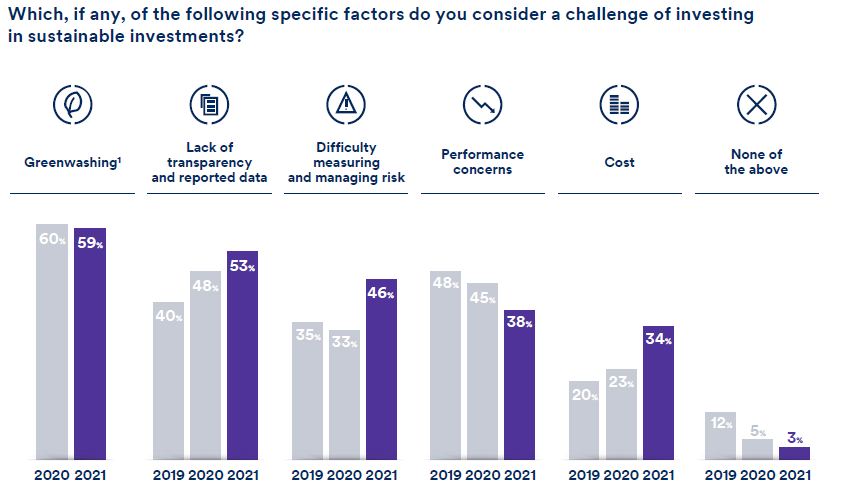 Source: Schroders Institutional Investor Survey 2021
A similar survey of asset owners from Russell Investments found comparable results: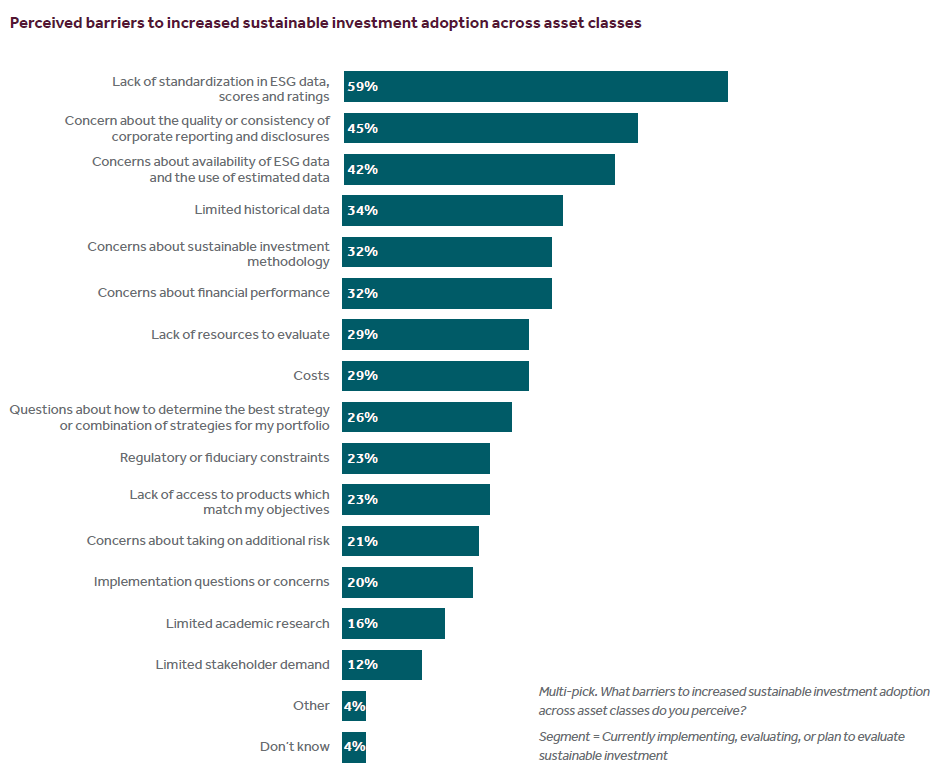 Source: Russell Investments – Sustainable Investment: 2021 global survey findings from asset owners
It's clear that a lack of standards coupled with questions around disclosures are the most prominent pain points assets owners are having with their ESG investment mandates.  Various processes and formats are being utilized by investors in the collection of sustainable investing data, using a patchwork of outside sources as well as efforts to collect this information directly from their underlying managers.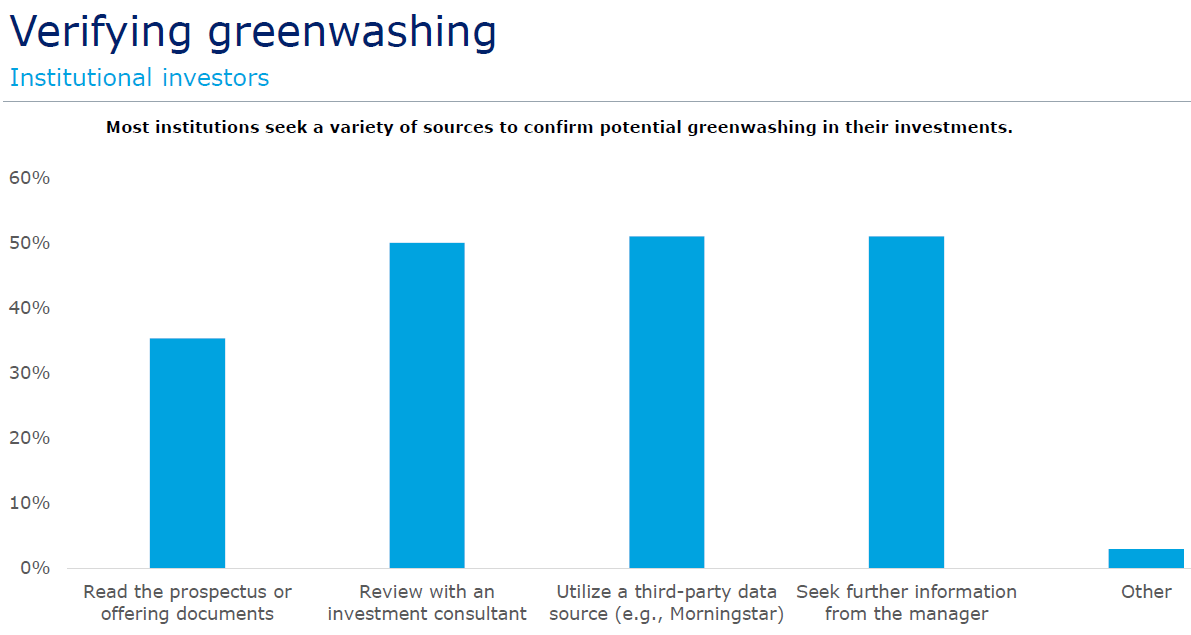 Source: Federated Hermes 2021 ESG Investing Survey
With regards to diversity and inclusion, a recent survey by Morgan Stanley found that less than half of investors had a formal process with which to collect data on their managers DEI progress.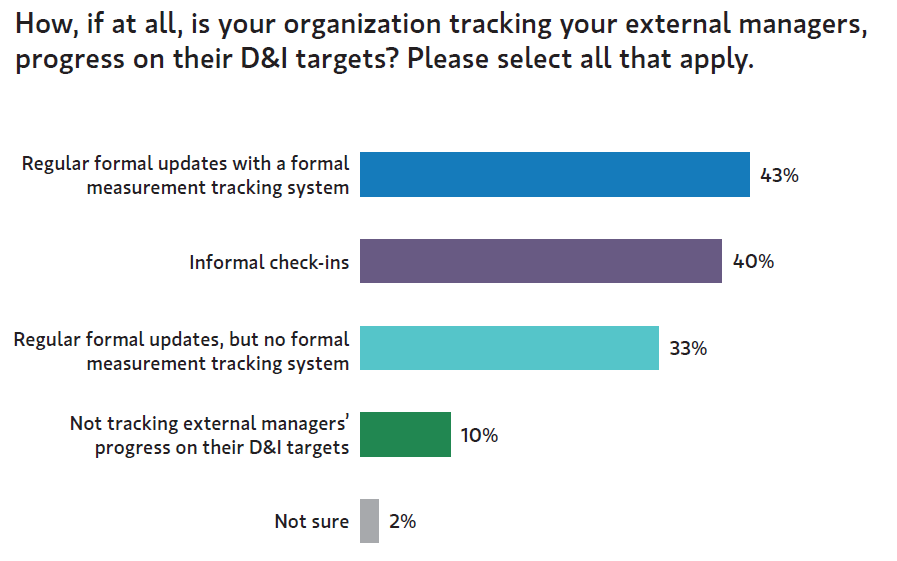 Source: Morgan Stanley – Asset Owners and Investing in Diversity: Intention versus Action
There are a number of initiatives though, that are attempting to bridge the gap across both sustainability KPIs and DEI metrics.
The Principles for Responsible Investment (PRI)'s Limited Partners' Private Equity Responsible Investment Due Diligence Questionnaire is one of the more actively used DDQs by allocators.  In fact, in our recent whitepaper, over 60% of managers as asked to fill out the questionnaire by LPs.  It should be noted that the Institutional Limited Partners Association (ILPA), for its part,  utilizes the aforementioned PRI DDQ as part of its broader Questionnaire and Diversity Metrics Template.
In addition to ILPA/PRI, there are two new efforts underway to streamline the reporting and improve transparency around ESG and DEI metrics, The ESG Data Convergence Project and the Asset Owner Diversity Working Group (in conjunction with the Diversity Project.)  Both of the reporting templates from these respective groups are available on the DiligenceVault platform.
The ESG Data Convergence Project is a collaboration between a number of leading GPs and LPs to streamline the private equity industry's historically fragmented approach to collecting and reporting ESG data in order to create a critical mass of material, performance-based, comparable ESG data from portfolio companies.  The effort is being led by the California Public Employees' Retirement System (CalPERS) and global investment firm Carlyle, with other leading LPs and GPs participating including: AlpInvest Partners, APG, CPP Investments, Employees' Retirement System of Rhode Island, PGGM, PSP Investments, The Pictet Group, Wellcome Trust, Blackstone, Bridgepoint Group Plc, CVC, EQT AB, Permira, and TowerBrook.
As part of the group's mandate, GPs will track and report six metrics from their underlying portfolio companies and the data will be shared directly with invested LPs by GPs and aggregated into an anonymized benchmark. The initial six metrics are: Scopes 1 and 2 greenhouse gas emissions, renewable energy, board diversity, work-related injuries, net new hires, and employee engagement.  DiligenceVault clients can now access the group's reporting template on the platform.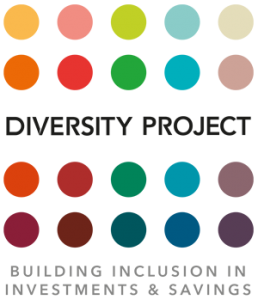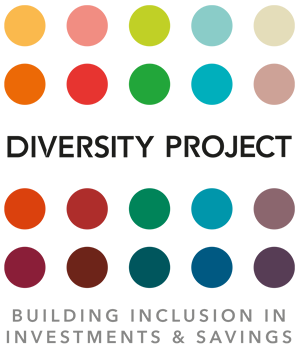 The Asset Owner Diversity Charter is an initiative created by the Asset Owner Diversity Working Group in conjunction with The Diversity Project. The charter was formed with an objective to formalize a set of actions that asset owners can commit to improve diversity across the investment industry. Signatories, including consultants, commit to surveying asset managers via the questionnaire. The consortium's Asset Manager Diversity and Inclusion Questionnaire is now available for use on the DiligenceVault platform.
DiligenceVault stands committed to working with both asset owners and managers to improve the collection and reporting of key ESG and DEI metrics.  To learn more about these new questionnaires and how the DiligenceVault platform can help your firm with your ESG and DEI efforts, please don't hesitate to reach out.