The transformation that most InvestTech firms experienced over the last year relied on conviction, creativity, and a focus on excellence to compensate for industry-wide reduced budgets and delayed decision making. Some of the big movements and ideas that have helped this transformation and will help shape 2021 and beyond are below:
All firms were forced to innovate: 2020 has been unlike any other year, exerting profound influence on the way the asset owners adopt technology. Digital transformation and technology-led collaboration have become mainstream. Change management which would have taken years, was possible in less than a few months.
Corporate inertia has taken a back seat: Some of the largest firms have the best brands, institutional processes, and the highest revenue per employee, but have been the slowest to innovate because of the following reasons:
What's innovation worth? Value is not immediately clear. Also what is not clear is if it is a long-lasting trend or just a fad
Let's wait and watch: Humans tend to overestimate the impact of disruption in the short run, and underestimate in the long run. As a result, innovators tend to give up as it is iterative and is not an overnight process, and/or enter the waiting game
Only one chance: For startups, the idea of failure as a path to success is accepted, and in fact celebrated. However for established firms, there's zero tolerance for losing from a point of success
This is how we do things: Powerful phrase in indicating a process or a thinking, but at the same time a significant roadblock to innovation
Why now? Focus on immediate business priorities is an undeniable reality
Organizational politics: 'Nuff said…
However, when the firms decide to innovate, they are a tremendous force. 2020 was a catalyst for reset in the innovation mindset. The change makers, data visionaries, automation evangelists, all found the tailwinds they needed. These trends are poised to grow in 2021 and beyond. InvestTech firms should be delighted with this change, however, the organizational politics has still not gone away 😊.
Continuing Consolidations: In 2020, the industry microstructure continued to consolidate:
iCapital acquired Artivest
Nasdaq acquired Solovis
Dynamo acquired Imagineer
S&P Global and IHS Markit announced merger
AltaReturn and Black Mountain combine to form Allvue
Morningstar acquired Sustainalytics
Despite so many M&A transactions, the map is still growing which bodes well for increasing innovation.
If your firm is not on the map of InvestTech leveraged by asset allocators/asset owners, please contact anna@diligencevault.com.
Disclosure: While DiligenceVault solves data, automation, and access-challenges of diligence, we are at the center of the universe here as authors of the industry map!😊
Integration Partnerships: A typical investment office is using 10+ technologies on average. Some of these are internally built, but a far majority are external technologies to cater to the different phases in the investment process. One of their biggest pain points is lack of technology integration, resulting in manual efforts, errors, suboptimal decisions, and loss of productivity. Integrations are a powerful way for InvestTechs to deliver value to clients, have a direct impact on their own growth aspirations, while allowing them to focus on product excellence. At DiligenceVault, this has been and continues to be a top priority. We are excited to announce and open up early access for three large integrations in Q1.
Category Unicorns in the Making?
Morningstar has doubled down on data – started with Pitchbook, and recent acquisition of Sustainalyitics and investment in Allocator. Could Morningstar emerge as a data leader with a combination of public markets, private markets, absolute return, and ESG datasets?
Nasdaq is laying the foundation for a Private Markets play, with its 2017 acquisition of eVestment, the 2020 acquisition of Solovis, and Nasdaq venture's investment in Canoe and Chronograph. Interestingly, it is a combination of a data business with a technology business, and it will be interesting to witness how the combined business models scale.
MSCI took a significant stake in Burgiss, LSE bought Refinitiv, and with IHS Markit merging with S&P Global, there is no longer a clear separation between index providers and data providers.
Increased Investor Conviction: InvestTech is picking up momentum with more tech investors building expertise in this space. Many strategic investors have emerged including Goldman Sachs, BlackRock, Morningstar, AlpInvest/Carlyle, Hamilton Lane, BCI, Deutsche Borse, and Temasek who are choosing to invest in technologies that they have also adopted for their own investment processes. Below is a snapshot of firms that are current investors in firms in the growing InvestTech industry map.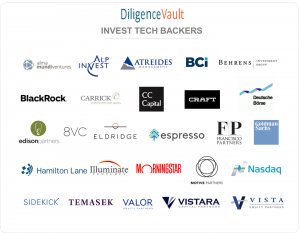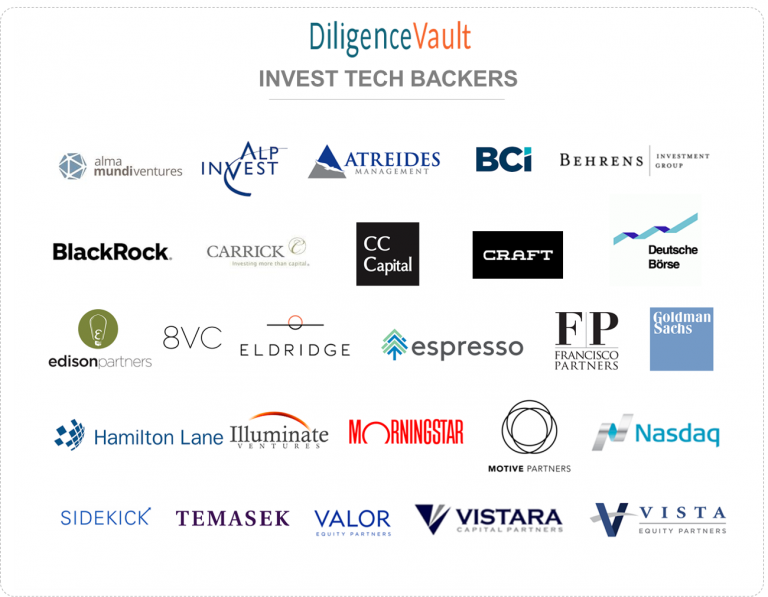 The emergence of InvestTech databases and expert consultants: PE Stack, &Simple, and Wealth Briefing are very useful resources for technologies in this segment. Specialist implementation and integration consultants have been helping buyers assess and implement various InvestTech solutions, especially when the buyers do not have the bandwidth. Below is a list of a broader list, and we have worked with a few of these firms and are happy to share experience feedback.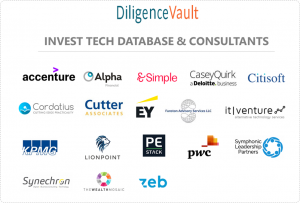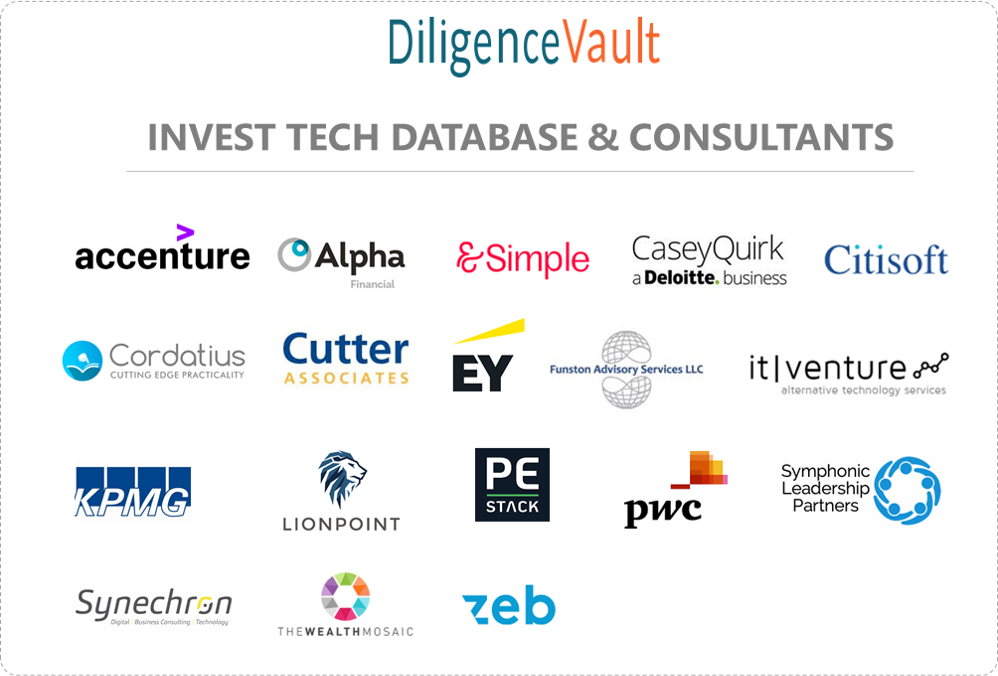 The InvestTech Age
With technology playing a critical role in 2020, enabling collaboration and connectivity globally, saving hours of manual efforts via smart automation, making portfolio intelligence accessible, the adoption is only accelerating in the industry!
With so much momentum and a growing support system, how could InvestTechs not go for an audacious win? Who is going to catapult as the ultimate leader in InvestTech? The time is most definitely now to grasp that unassailable lead! Are you ready to invest in, adopt, influence in the age of InvestTech?
Check out prior maps:
2020: Top 10 Creators of InvestTech Unicorn
2019: And The Next InvestTech Unicorn Is…
2018: The Rise of Integrated InvestTech
2017: Who Defines the Future of InvestTech
Thank you Team DiligenceVault, our clients, industry influencers and friends for your review in refreshing the 2021 InvestTech map.