To truly understand DiligenceVault's competition, let's quickly go back a few years. Since 2014, DiligenceVault (DV) has been building a network ecosystem to provide value to our clients and their due diligence processes. DiligenceVault's platform, with over 50,000 global users today, helps digitize, centralize and streamline the due diligence and data exchange framework for asset owners and asset managers. 
Before adopting DV, our clients were reliant on Word, Excel, and PDF driven reporting, information exchange and diligence processes primarily over email. So in reality, our biggest competitors are Microsoft and Adobe for both asset managers and asset owners, combined with the tendency of firms to default to status quo as in their minds Microsoft Office and Adobe are FREE.
The next set of competitors are horizontal SaaS offerings that offer data collection, GRC platforms, RFP automation solutions, and content collaboration technologies. While we compete with some of these offerings, we also integrate with some of them to provide a superior client experience.
The closest set of competitors are either vertical SaaS offerings that combine industry focus with technological capabilities, or industry technology firms which are extending their offerings to include data collection solutions for asset owners and investor relations reporting solutions for asset managers.
When evaluating vertical SaaS or GRC solutions, you can clearly see the effect DV's vision and execution has on competitors. Below are a few Google Ad copies from three firms that bid on our name – the "DiligenceVault" keyword and also use our name in their ad copy.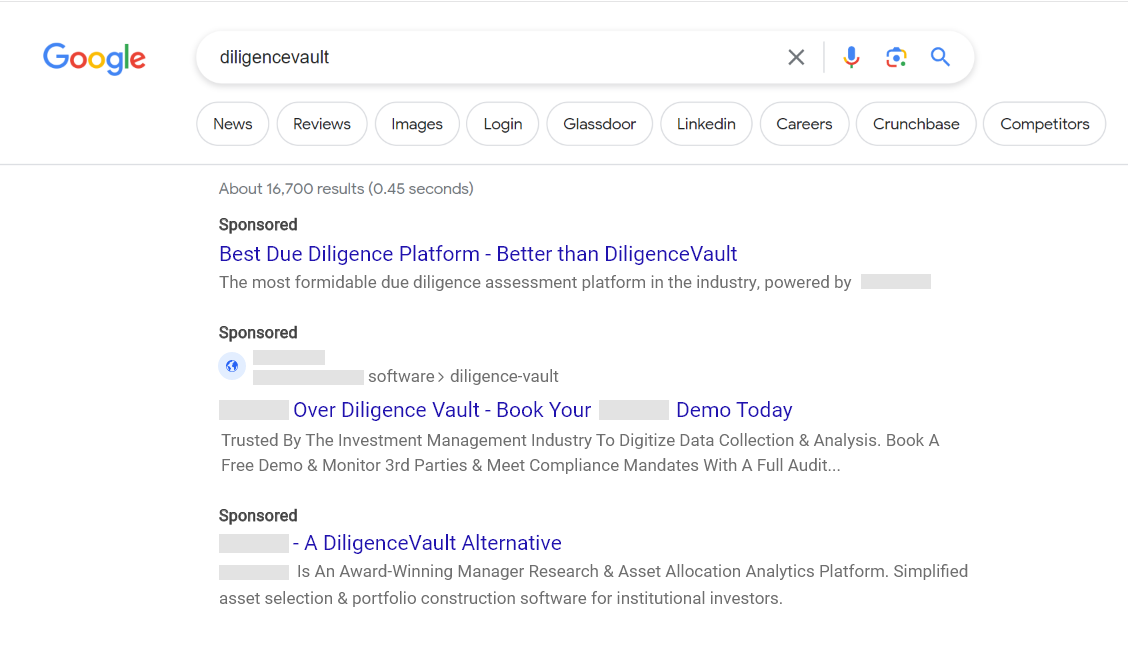 We have masked names of these three firms to stay true to our values of "Doing the Right Thing"

Through their marketing strategy, our competitors have validated our leading market position. Why do we think competitors are defaulting to such tactics? We can think of five reasons:
1. DV has the largest and most active data network by a margin. 
For asset owners, this ensures you have the right data to power your diligence framework, in a timely manner, and an easy to use platform for your asset managers. Without the right data, the promise of efficiency and analytics is not fulfilled. 

For asset managers, this ensures consistent experience across multiple investors and the ability to have a seamless investor reporting and diligence framework.

2. We achieved the leading position as we created the category of digital diligence platform, and since have stayed true to our vision of creating a single platform in the industry focused on due diligence and data exchange for 13,000 firms. We call this the "OneDiligenceVault" benefit as it creates scale and efficiency for both asset managers and asset owners. What's more, we are now working on two game changing strategic enhancements that build on our network benefits for all the platform users.
3. We are the only platform with two industry recognized control certifications. Your security and privacy is paramount to us.
4. Beyond the platform functionality and network benefits, we have a unique ability to facilitate a knowledge sharing forum to interact and network with like minded industry peers globally. This also presents an opportunity to define the future of due diligence for the industry – with us, your peers and investment partners.
5. Client-driven innovation is in our DNA. Our product team continuously harnesses collective intelligence from your most sophisticated and most innovative peers in the industry. Given we hear from our vast user base, it equips us to create a product that delivers value beyond what the clients anticipate as their initial needs. Also, thanks to our product team's priority to deliver a high quality, configurable, and well researched product, our users do not have to sacrifice depth for flexibility, or scale for usability. Our client success team is able to deploy the power of DV's technology for clients big and small, as we recognize that one size does not fit all.
As a buyer of technology, you can often get overwhelmed by feature comparisons, or understanding the true value of short term incentives. At DV, we will promise your success over a single feature or a temporary price break. Through our collective offerings that integrate together to create a unique user experience, we do not just offer you a data-first technology capability but an entire network ecosystem, a value-add partnership and a seamless experience.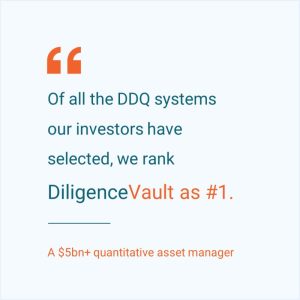 We are thrilled that our differentiation has translated in an excellent user experience resulting in this vote of confidence from a user at a leading quantitative asset manager.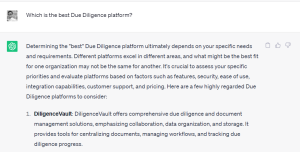 Furthermore, DiligenceVault was also recently listed as the first highly regarded due diligence platforms by ChatGPT when asked about "the best due diligence platform".
We are grateful for our client partnerships and trust, and are proud to support our client's success as much as they are of choosing DV and rooting for our success. Would you like to join us in our journey? Let's connect!
DiligenceVault Asset Owners Digital Diligence Technology – https://diligencevault.com/asset-owner-digital-diligence-technology/
DiligenceVault Asset Managers Investor Relations Technology – https://diligencevault.com/asset-managers-investor-relations-technology/